Let us tell you our story of success.
Cyber Chord was founded in 2016 with a vision to help businesses harness the power of digital marketing to achieve their goals. Our founder, Mr. Pranay Chawla, had years of experience in the IT industry and saw a need for a digital marketing agency that could provide customized solutions tailored to the unique needs of each client. Starting with just a small team, we quickly grew and established a reputation for delivering results-driven digital marketing services. Over the years, we have helped businesses of all sizes across a variety of industries to improve their online presence, drive traffic to their websites, and generate leads and sales. 
Incorporating product selling into your digital marketing strategy is an essential step for any business looking to increase its online sales.
Seamless management of promotions is essential for businesses to effectively reach their target audience and increase sales.
Define your growth strategy by identifying your business objectives, target audience, and growth tactics.
Email marketing is a powerful tool for businesses to connect with their customers, build relationships, and drive sales.
Cyber Chord works with clients to develop customized digital marketing strategies that align with their business objectives and target audience preferences. We conduct market research, analyze competitors, and perform keyword research to identify opportunities for growth and improvement.
Competitor research is a crucial aspect of any effective marketing strategy. By researching your competitors, you can gain insights into their strengths, weaknesses, and overall market positioning, which can help you identify opportunities for growth and improvement.
Google Analytics is a free web analytics service offered by Google that helps website owners and marketers track and analyze their website traffic and user behavior. It provides valuable insights into how visitors interact with your website, which can help you optimize your website for better performance and increase your ROI.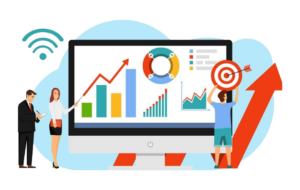 Creating unique content takes time and effort, but it is worth it in the long run. To create unique content, start by conducting research on your topic and finding new angles or perspectives to explore.
Results and optimization are crucial components of any successful digital marketing strategy. Without tracking results and continuously optimizing your campaigns, it is difficult to determine the success of your efforts and make improvements to drive better performance.
Without a clear plan and strategy in place, it is difficult to achieve your marketing goals and drive meaningful results. Here are some key steps to consider when planning a digital marketing strategy. We define your objectives first then identify your target audience, choose your channels to promote and then meassure your results.
New company branding refers to the process of creating a new brand identity for a company. This may involve updating the company's logo, color scheme, tagline, messaging, and overall visual identity. The goal of new company branding is to create a fresh, modern image that reflects the company's values and resonates with its target audience.
Online business presence refers to the way in which a business is represented and perceived online. It includes all of the digital touchpoints that a customer may encounter when researching or interacting with a business, such as the company's website, social media profiles, online reviews, and other digital marketing efforts.